Health: Your Aging Parents And Switching Roles
This is the day that you assured yourself would never come. Your positions in life are going to have to switch places. You're attempting to make choices that will benefit both you and your Aging Parent.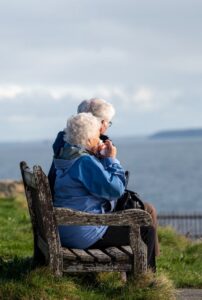 Health: Your Aging Parents And Switching Roles
What will be most beneficial for them while minimizing the impact on your life as much as possible. How are you able to maintain the pace and, in the end, satisfy everyone who is around you?
You do not have to go through life by yourself because you have responsibilities such as a family, a significant other, and a career. You need to strike a balance between everything so that everyone is content and life continues as normally as it can.
Think again! The visits once a week or the phone calls every day simply aren't sufficient anymore. Your parent requires serious care, and they need it now.
As part of the care, you are responsible for ensuring that they eat, that they take their medications, and that their money is not being frittered away on shopping channels.
You have siblings who consider Assisted Living or Nursing Facilities to be awful, and they do not want to place your mother or father in one of these facilities.
However, they do not want to assist you in caring for your mother or father. How do you cope? How can you find a solution to this problem that does not drive a wedge between you and every member of your family?
Health: Your Aging Parents And Switching Roles
First, you have to realize that it is not about you. What I mean by saying that is that it is not about guilt or about what some people believe to be the right thing to do in this situation. It is not about clinging to someone for what they once were in the past.
They are a senior citizen who need round-the-clock care and attention due to their advanced age. If you are in need of some maturing, this circumstance will force it upon you regardless of whether or not you are prepared for it.
Begin with speaking with their primary care physician. Make an appointment with your primary care physician to discuss the deteriorating health of your cherished parent.
You also have the option of checking into the hospital that is affiliated with their health care. There is at least one elderly care program available at each and every hospital. In addition, the medical coverage will have connections to elder recruitment and placement.
You may be able to determine the types of assistance and changes in lifestyle that are required for your parents' current condition with the help of the doctor and the medical coverage group. Don't stop asking questions until you find a solution that works for everyone involved.
It may be as straightforward as having an Aide stop by once or twice a day to provide assistance with showering, clothing, meal preparation, and medical administration.
It's possible that their health requires more than that, in which case the office of the doctor or the visiting nurse is the best location to voice your concern.
Health: Your Aging Parents And Switching Roles
When it comes to providing assistance to elderly parents, the most important word to understand is the same as if you were supervising the care of your young child: safety.
If the required level of safety is not met, you should keep pressing until you receive the assistance you require. Continue to stress the importance of the safety zone.
It is possible that it will take you some time to discover everything that is available to your parent in order to assist with this care process; but, believe me when I say that it will be worth your effort in the many years that elderly care might stretch out to be.
It is in everyone's best interest to have all of their health and medical, financial, and personal circumstances discussed with them before the time comes.
When they are older, the most important thing you can do for them is to be there for them. Instead of wasting time worrying, spend time with people you care about.
Instead of trying to find someone else to take care of them, why not invite them over for the day and provide dinner for them?
Resentment is bound to grow up if you go through this ordeal by yourself, and there are a lot of extremely good care facilities that may relieve you of this burden.
Those later years will be remembered favorably if they were lived in safety and honesty.
About Post Author