An Angry Mob set cattle truck ablaze as 1 Oyo boy is killed.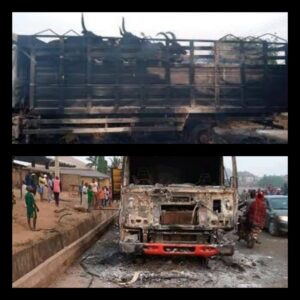 On Monday an angry mob set cattle truck ablaze on the basis that one of their own was killed by the truck.
The incident occurred in Saki, Oyo State on Monday. The boys name is Ayuba Raji, the brother of a popular Yoruba presenter and musician Monsurat Raji.
According to an eye witness, Kazeem Adebiyi, the incident was said to have happened at a place called challenge junction, along Saki dual lane road.
He further stated that the incident was as a result of over speeding by the truck driver, and that due to an ongoing construction in the road that motorist do flank the one-way policy.
The incident made the angry mob set cattle truck ablaze over the killing of the Saki boy who was run over by the said truck while driving his motorcycle.
A resident, Adekunle Lawal prior to the situation in which the angry mob set truck ablaze had advised the contractors handling the project to device means to construct speed breakers in other to prevent over speeding in the road.
He said the young boy was riding a motorcycle when he was hit by a truck transporting cattles out of the Saki. "An angry mob set the cattle truck ablaze", before any help could come from the authorities.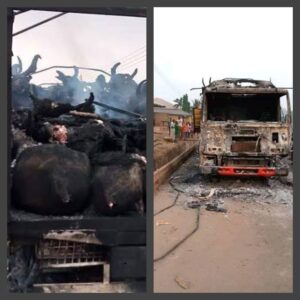 The Police Public Relations Officer, Oluugbenga Fadeyi, confirmed the incident of the angry mob that set a cattle truck ablaze,and said, the incident occurred in Saki. He said the Young boy was rushed to Baptist Hospital in town but later died. An angry mob set truck ablaze with over 25 Cows.
READ ALSO: Corps Member Arrested For Killing Boyfriend
About Post Author