Woman rescued by Military Escorts from Kidnappers net.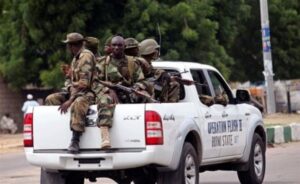 In Benin, Edo some military men shot and killed a yet to be identified suspected kidnapper, and woman rescued by military escorts in the process.
This incident was said to have occured at Aduwawa, located along Benin/Auchi road of the Benin city.
The Woman rescued by military escorts was said to have been trailed by the kidnappers for some distance before she was cornered by the kidnappers.
The armed kidnappers after putting the woman's car to a stop, forced her out of her car and dragged her into a car they snatched earlier.
Then while the operation was on going the kidnappers sighted a military escort van and started opening fire, then the military escorts seeing the situation of things decided to step in and remediate the situation.
On the process of trying to rescue the woman from the hands of the kidnappers, one of the kidnappers was killed and the woman rescued by the military escorts unhurt.
According to the Police command's spoke person, SP Chidi Nwabuzor, who confirmed the situation and also added that the other cohorts are on the run and the police are investigating the case currently.
READ ALSO: School Resumption for 18th January Still Stands.
About Post Author