Following the Border closures to Nigeria for the past months, President Buhari Reopened some borders.
The federal Government closed the borders in August 2019, following the ban and restrictions that was neccesary in March 2020 due to the COVID '19 pandemic .
On Wednesday 16, December 2020, the President, Major General Muhammadu Buhari, approved the immediate reopening of the borders, but retained ban on the importation of commodities such as rice and poultry products still enforced.
Borders currently directed to be open included the Seme border in the South-West, Illela border in the North-West, Mfun border in the South-South, and the Maigatari border in the North-West.
The federal Governemnt further said that the other borders would be reopened on or before the 31st of December 2020.
The federal Government spoken person buttressed the fact that the closure of the borders was quite impactful as a whole lot of ban items were seized on this account.
Information gathered has it that over 5,766 pump action guns , cartridges/ammunition were seized by the federal government through the Nigeria customs service during the period under review.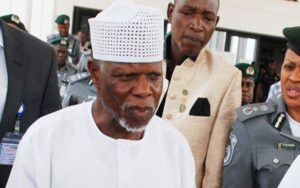 It was learnt in Abuja on Friday that the teams created by the Nigerian Government, Republics of Benin and Niger was done after a tripartite agreement between this three Govenments and this patrol team was meant to patrol the borders and enforce the ban.
The other items seized by this joined patrol team on this account included 1,957 vehicles,895 motorcycles,10,447 bags of fertilizer,157,511 bags of rice,18,630 jerrycans of vegetable oil,74,307 jerrycans of PMS and 5,653 drums of PMS.
About Post Author