30 bandits killed by security operatives on a special operation in Kaduna and Niger State.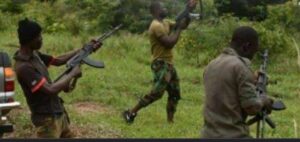 The Nigerian Security operatives and soldiers were reported to have stormed bandits' hide outs and about 30 bandits killed as at the time of this reports.
It was gathered that firearms such as Ak47, automatic rifles and two rocket-propelled arms were recovered during the operation.
It was also gathered that the bandits had for some time pitched their tents in Birnin Gwari and Rijana communities in Kaduna State as well as Kagara in Niger State respectively before the aforementioned attack by security operatives, an attack that claimed the lives of some of the bandits while some were dislodged.
From the information gathered on Tuesday, there was about 15 persons who availed themselves as informants to the bandits were apprehended in Kaduna, adding that they're being interrogated at the time of this report. A community chief was not left out of the arrest as it was alleged that he was an accomplice to banditry, conniving with criminals in the area to propagate criminality in a once peaceful area.
An operative who actively participated in the joint security operation has this to say, "Some citizens who had information volunteered themselves to lead us into camps and hideouts of the criminals in both Kaduna and Niger State. In some of these hideouts, the bandits had left before our arrival. There were evidences of criminal presence there as they also abandoned lots of motorcycles, clothes and huge quantity of food.
However, we were able to engage some bandits in some of those hideouts and successfully eliminated about 30 of them and arrested about 15 of their informants. Although, some of our men sustained injuries during the exchange of gunfire with the bandits, we can comfortably say we recorded no death so far from the operation.
About Post Author