19- year old young boy commits suicide after loosing peoples funds.
A family source who related the news reported that the young boy in question, Olaoye-Akanbi was discovered dead on Sunday due poison.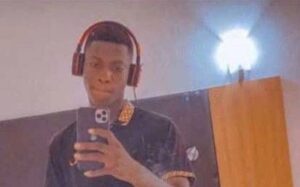 Olaoye-Akanbi Gbenga Favour is a 300 level student of the Department of Agriculture, University of Illorin, he is allegedly claimed to have been duped by another forex trader by name Eseka Chukwutem Gospel.
---
The said invested funds of over 300 million was said to have belonged to his colleagues and friends.
A friend of the deceased and an investor with the trader Eseka narrated of how  they had been duped.
His words " The investment we did is known as forex. The traders name who we invested our funds to is named Eseka Chukwutem Gospel (ESG). We started the investment together earlier this year just before lockdown. It seemed he had stopped trading, so he turned indirectly to a ponzi scheme without the knowledge of those investing.
He has  a particular group and most people in that group collected money from other people to invest in his business. The said Gbenga collected money from different people to invest with the ESG guy at a certain percentage.
It happened the business crashed and he couldn't keep up with the pressure of repayment from investors. This probably resorted to him taking his life".
About Post Author