A French soldier shoots  2 (two) other soldiers while drunk
A French soldier who was deployed alongside his colleagues to Mali as part of the forces fighting the jihadist insurgents has been reported to have shot and wounded two of his colleagues while he was drunk.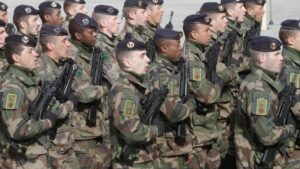 The situation occured in the midnight of 24th December dawning to 25th, Christmas day. The whole scenario is said to have played out while he was drunk.
The army headquarters said that he unconsciously wounded his comrades with his pistol while drunk at their base in Gao, Eastern Mali.
The two soldiers from the same unit were reported to have gotten on each others nerve before the incidence occurred, as reported by the army spokesman Frederic Barbry, he said that the soldier wounded the colleagues with his service weapon.
One of the soldiers wounded was just a slight bruise while the others injury was more severe, although it was not life threatening.
Both of the soldiers are said to have been flown out to the army's general hospital in France to receive their treatments, just immediately after the incidence happened.
According to Barbry Military police is currently investigating the incident and immediately the probe is completely the culprit will be sent home in France.
France's Barkhane force deployed to Mali to aid in the mitigation of the Jihardist Insurgents is 5100 troops spread across the arid Sahel region and has been helping the Mali soldiers in fighting the Jihadist groups in the areas alongside soldiers from Mauritania, Chad, Burkina Faso and the Niger who altogether make up the G5 Sahel group.
Follow us on twitter for daily updates
About Post Author