Corruption trial: former Chairman of the defunct Pension Reform Task Team,Mr Abdulrasheed Maina Collapses in court before his prosecution.
Mr Abdulrasheed Maina a former chairman of the defunct Pension Reform Task Team collapsed on Thursday in Court Just before he was to be prosecuted for money laundry crimes.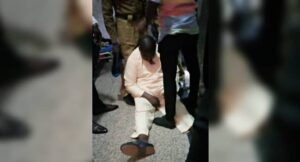 He is been prosecuted by the Federal Government on a 12-count charge for fraud and money laundering at the Federal High Court, Abuja. His son Faisal is also undergoing a 4-count charge for money laundering.
The former Chairman of the defunct Pension Reform Task Team collapsed, Mr Abdulrasheed Maina was been recently arrested at Niger Republic alongside his son faisal after they both jumped bail and tried to escape the country.
The court was thrown into chaos has Mr Abdulrasheed Maina collapsed while his lawyer, Anayo Adibe was addressing the court on his case submission before the judge, Justice Abang Okon.
The counsel was previously seeking for an adjournment of the court to enable him get the records of the court proceedings.
He stated that the proceedings was to enable him prepare a no-case submission he had intended to file on the behalf of his client, Mr Abdulrasheed Maina.
After he, Mr Abdulrasheed Maina collapsed, the court had to stop in order to enable the officials of the Correctional Service and Relations of Mr Abdulrasheed Maina to attend to him.
The matter had previously been adjourned on Wednesday to Thursday in order for the defendant to argue his no-case submission and for the prosecution to respond to same orally. But with the turn of events the case has now been adjourned till December 21 and 22.
Also the prevalent ill health of the defendant, Mr Abdulrasheed Maina has been the major cause of the prolonged trial of the case since November 2019.
About Post Author