Breaking News: Man Of God T.B Joshua confirmed dead at 57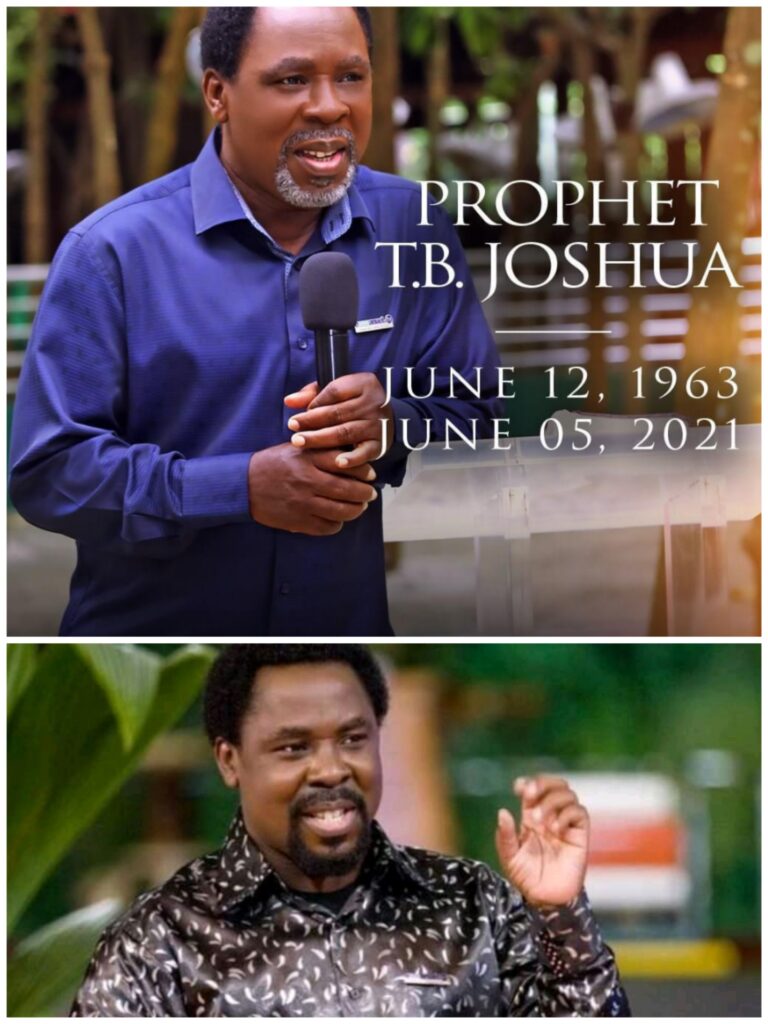 It is really saddening and disturbing news to hear that Man Of God T.B Joshua confirmed dead at 57  in the early hours of today, 6 June 2021. Died after preaching in his church headquarters, Synagogue.
His full name is Temitope Balogun Joshua, but the world mostly know him as Prophet T.B Joshua, his date of birth on record is June 12, 1963.
Prophet T.B Joshua is a very prominent and controversial Nigerian preacher, he is a frontline televangelist in the EMMANUEL TV.
He is prominent in the world for his philantropic and miraculous works. He is the founder of the Synagogue Church of All Nations(SCOAN).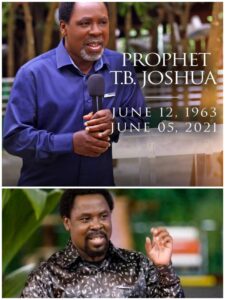 Though it is not actually certain the time of his death, but it is suspected the Man Of God T.B Joshua confirmed dead at 57, died in Lagos on Saturday evening shortly after a programme in his church SCOAN, It was a family source who confirm his age.
Per his purported statement, it is predictated that the Man Of God T.B Joshua confirmed dead at 57, saw his death coming, that is why during one of his preaching during a programme in SCOAN, he made it clear that he will not be celebrating his 58th birthday which was in 12th June 2021.
Inasmuch as this maybe sounding wierd, this is believed to have been his reasons for not wanting to celebrate his birthday.
However, some members of the church said he looked sickly in the weeks leading to his death. The stoutly built cleric appeared a little emaciated in some of his recent photos.
It has been gathered that his death as really caused turmoil in different parts of the world and his images are everywhere on social media, comments and post by his followers all over the world, expressing sadness over his death.
"He visited Bostwana before and he remains extremely popular here. It is not a surprise that many are actively mourning his death," Alvin Ntibinyane, a Botswanan journalist, said.
T.B Joshua, a hitherto unknown prophet of the Celestial Church of God Christian denomination in Lagos, rose to become one of the most powerful preachers in the continent with thousands of followers across the continent and beyond.
He courted political leaders, sports stars and entertainment celebrities who attended his church for miracle healings, victory during elections and other matters.
In 2009, days after his victory in the country's presidential election, late Ghanaian president John Atta Mills, flew to Nigeria for a thanksgiving service at the Synagogue Church. Mr Mills said the preacher had accurately predicted his victory at the poll.
Notable Nigerian sports stars who attended his church at some point for miracle healings include Daniel Amokachi, Kanu Nwankwo, Joseph Yobo, and Ogenyi Onazi.
Mr Joshua also runs a huge philanthropic operation where cash and food items are distributed to indigent members of the public and his church members.
His popularity rose after he set up Emmanuel TV which was used to broadcast the church's programme and miracle sessions.
In Nigeria, the larger Christian community often keep Mr Joshua and his church at arm's length over his style of miracle healing, which some claim is not biblical. He however courted some top preachers in the country; one of his closest friends is the televangelist, Chris Oyakhilome.
Controversies
Apart from not being fully accepted by the larger Christian community in the country, series of controversies thronged the preacher throughout his life. Some former female church members have accused him of sexual abuse and exploitation.
Without a doubt, the biggest controversy involving the church happened on September 12, 2014, when an uncompleted storey building in the church's premises in Ikotun collapsed killing 116 worshipers. No fewer than 84 of those killed were South African nationals.
A Lagos State building agency claimed that the church did not obtain the required permit before adding more floors to the building.
Mr Joshua blamed the collapse on sabotage. He pointed at a low-flying aircraft around the building minutes before the collapse as evidence of an external attack.
Read Also: Sheikh Ahmad Gumi vows to lock down Aso Rock, if anything happened to any of his child.
About Post Author