Police Brutality has really been a major concern of lately, a Man recently wounded by Gunshot laments of health condition in the hospital at UPTH.
A man by name Amaechi Efungwu, age 43 narrates of his ordeals in the hands of the police officers who took him to the hospital and left him to suffer after a Gunshot injury sustained from the police men.
Following a trailing story of a keke man that was shot dead by a police officer in Rukpokwu due to a dispute of a #100 naira between the keke man and the police officer.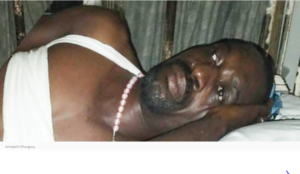 Amaechi narrates his ordeal of how he was unjustly treated by some set of police who took him to the Rumuokoro police station and one of the police officers made a comment that he should have been killed by his colleague and taken to the mortuary alongside others that was was shot dead.
The mayhem started after the killing of a tricycle rider by some policemen in Rukpokwu, Rivers State on the 10th of December 2020.
Mr Amaechi narrated of how he sustained the gunshot injury " I was going to work and I boarded a taxi from Igwuruta to Rukpokwu just about 8am. Reaching Rukpokwu, there was a large crowd obstructing free movements on the road, so the taxi driver said he couldn't continue so we had to alight and started trekking towards market junction in Rukpokwu, there were tyres burning everywhere on the road and we tried finding out the reasons, and were told that a policeman killed a keke driver and that the corps of the man was been taken to the police station, so we continued trekking till we got to happy bite and I luckily sighted a colleague who just drove through SARS road, I called him on phone and he stopped to pick me.
On our way down to Rukpokwu Roundabout towards Eliozu, they were still burning tyres there and everywhere was blocked so we tried finding a way out and later passed through DPR area, on getting to the junction, people were signaling us to reverse. My colleague had to turn around in one of the streets and parked somewhere safe and we came down, on trying to see what was happening, a crowd was running towards us and before I could realize myself a bullet hit me on my back and I was on the ground. Before I could regain consciousness some policemen swoop me and dragged me to their van. They made some comments of us coming to burn their police station. They brought in two others and threw into the van".
When we reached the Rumuokoro police station they asked me to come down, but I told them I was unable to and one of them said they should just have killed  me and take us to the mortuary and I exclaimed that I was innocent why should he have killed me.
They took us to UPTH (University of Port Harcourt Teaching Hospital) and one of the policemen just went and brought two drips and other things and left.
The man lamented of the bullet still  been inside him and #80,000 is needed for a CT scan, and that he has been suffering in the hospital with no drugs or no one to take care of him. He said his phone was seized by the policemen and he has no means of communicating with the family.
About Post Author