Sexual Molestation of Don Davis in Deeper Life High School, Uyo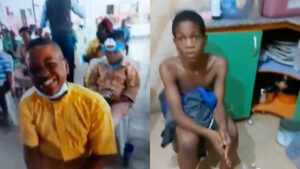 Following the turn of events in Deeper Life High School, Uyo Akwa Ibom State, the management of deeper life high school has finally reacted to the trailing story  of the sexual molestation of Don Davis, an 11 year old boy, who is in JSS 1 in deeper life high school, Uyo Akwa Ibom State.
He was reported to have been sexually molested by his seniors in the school and also starved by some teachers in the school.
And in the mother's narration of the story on facebook which caught the public attention, she narrated on how they refused her on seeing the son for months, and was finally shocked on how the son looked whe she finally saw him
In a Video the management secretary, Mrs Thelma Malaka, said that the school would not cover up the issue, but would ensure justice is served to aggrieved parties.
She further stated that the issue had been taken up by the Akwa Ibom State Government for further investigation of the matter, in other to ensure neutrality and a dispassionate resolution of the issue.
She appreciated everyone who had shown support in the investigation so far, and she further added " we reiterate that we will be transparent and that justice will only not be served, but it will also be seen by all that it has been served. "
we would like to buttress the fact that deeper life high school stands on the core values of integrity and uprightness and will not attempt to cover up any immoral act under any disguise.
READ ALSO:  Deeper Life High School, 11 Year Old Boy sexually Abused
About Post Author