Few people have reportedly been injured in uyo on 9th Dec, due to panic around the Plaza environs in Uyo, Akwa Ibom State in the late hours of the evening.
The major reasons for this temple run which resulted in the injured of some individuals is not well known as at the time of this report.
But information gathered so far as it that Gunshots were echoing around the plaza axis and Abak Road, people were seen running everywhere seeking for shelter and escape from the chaos and panic, commercial drivers and motorist were seen all trying to reverse and return home or go some place safe.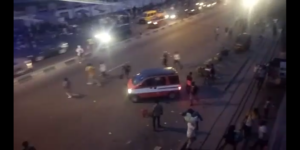 There was even a report of a particular motorist who said his car was almost burnt by some unidentified mob.
Still around the same time of this happenings around plaza and Abak road, it was also Gathered that a fight was simultaneously happening around Mbak-Itam (abattoir) and the water board axis.
It was reported that some Akwa Ibomites and hausa guys were fighting and it resulted in the death of an individual. Reports has it that the killed individual is an indigene of the area.
About Post Author