Justina Otuene Killed by Yahoo Boyfriend
It's so sad that this girl Justina Otuene Killed by Yahoo Boyfriend, met such a sudden end.
It is often said that we live in such a cruel world, a world were human's life is not valued.
A human being who cannot create life is so swift to take a life, indeed what a wicked world we now live in.
The yahoo boyfriend of Justina Otuene is said to be called Collins and he is said to be from Mbano in Imo State.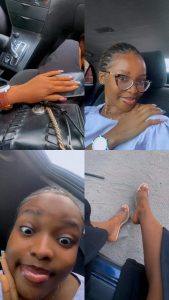 Justina Otuene who was killed by the Yahoo Boyfriend is a 300 Level Biochemistry Student who is from Isiokpo in Rivers State.
She is a student of the University of Port Harcourt and was said to have been in her Industrial Training at Prestige Specialist Hospital at D-Line Port Harcourt.
It is not yet ascertain how long she has been dating this yahoo Boy who happens to also be a ritualist. From the look of things it seems she didn't know that he was a ritualist.
Information from a known source discloses that she knew the boy was a yahoo boy.
An Information from a close source revealed that there had been dating for three years plus and she was aware the boy was a yahooboy
Her close friend Amanda Akabudu Was the first to alert the public of her missing in her Twitter page.
She tried to create the awareness that her friend was missing for 48hours.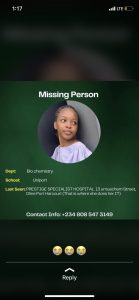 She notified that her friend booked a ride from bolt immediately after her work and has not been seen ever since.
After due investigations, it was discovered that the boyfriend killed her for ritual purpose, on going to dispose off the corpse he was apprehended.
In a report by a Facebook user, the videos of his house and the body parts of the girl was discovered. 
Collins Yahoo Boyfriend

It's so sad how the heart of man can be so wicked and cruel. The boy is currently in police custody as we speak. Hopefully Justina Otuene will get justice for her death.
About Post Author