Meta Launches Creators of Tomorrow, Initiative to Highlight Emerging Digital Artists
Meta Launches Creators of Tomorrow, Meta's goal is to make it easier for creators to build an audience and make money from it. They hope that this will make creators more reliant on their apps and tools and encourage them to post more often.
Meta also hopes to bring in the next generation of creative talent to help lead its charge into the metaverse. In the end, it will be creators and stars who build next-level experiences and bring their audiences to this advanced digital plane.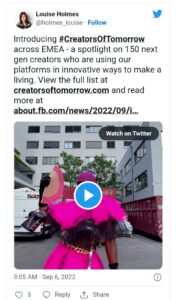 Meta's latest move in this direction is a new show called "Creators of Tomorrow," which will feature a number of creators from Europe, the Middle East, and Africa.
"The Creators of Tomorrow have exciting careers ahead of them. They have been selected because they're breaking out amongst their communities online, and showcase a best-in-class approach to video formats, technology and interactive entertainment – creative qualities we believe will be integral to the evolution of the metaverse."
Meta Launches 'Creators of Tomorrow' Initiative to Highlight Emerging Digital Artists
Meta says that it will work with the chosen creators over the next year to help them grow their audiences "and turn their passions into careers across our technologies."
You can see all of the chosen participants and examples of their work on the Creators of Tomorrow mini-site.
It's an interesting look at how different people are responding to the latest creative trends, which could make you think about how you approach your own social media content.
It also gives some interesting information about regional content trends and what creators in different markets are doing online.
Nevertheless. As mentioned, the metaverse and how these creators will eventually turn their work into next-level experiences are the main focus.
Some creators are already using Meta's Horizon Worlds VR environment, which lets them build new, immersive experiences like this.
Meta will be pushing creators to look there more and more, while both Facebook and Instagram are working to add more AI-based content recommendations to better show off new talent and put it front and center in user feeds.
Which is something that not everyone likes, and I'm still not sure that this is the best way to help Meta in the long run. But no matter what, Meta is determined to build stronger relationships with creators so that it can lead them and their audiences into the metaverse through directly aligned and customized virtual experiences.
Creators of Tomorrow is another step in this direction, and it will be interesting to see what each creator comes up with after working with Meta's teams.
READ ALSO: 30 bandits killed by security operatives on a special operation in Kaduna and Niger State
About Post Author