Civilians Attack Insurgents In Katsina
It was gathered that the Civilians Attack Insurgents In Katsina and gallantly repelled them from coming into the communities to wreck havocs.
Members of the Civilian Joint Task Force in Batsari Local Government Area of Katsina State were reported to have gallantly fought against an attack projected on the town by insurgents. In the process of repelling the terrorists, nine were killed while five were arrested.
Information going round confirms that the insurgents were seeing immediately after the evening prayers, riding on 10 motorcycles, carrying sophisticated weapons as they invaded the town at about 4:30pm on Sunday 11th September, 2022.
The Civilian Joint Task Force swung into action upon receiving the information of the invasion by the insurgents and successfully hampered their criminal intentions.
As earlier stated, many terrorists were killed including a bandit leader known as "solar" as he claims to operate with the sun.
According to information reaching LIB, the bandit leader known to have been terrorizing certain areas such as Jibia and Batsari was the master mind of the KSTA bus attack that happened recently.
It was also gathered that about 9 motorcycles used in the planned attack had been impounded.
Some revealed that members of the Civilian Joint Task Force had positioned themselves so as to quash any form of surprise attack by the terrorists. Hence the area still appear a bit tense as the following day being Monday.
It was also gathered that there had been recent attack on the Batsari town to be precise which led to the abduction of some residents. However, they failed in this attempt because of the presence of the Civilian Joint Task Force.
SP Gambo Isah who is the spokesman for the State Police Command had said that the DPO for the Batsari area was yet to give briefing on the ugly incident.
There is however a video circulating online that reveals residents of the community excited about the failed attack by the terrorists.
There is another video, although a graphic one that reveals the displayed heads of some of the terrorists in the community.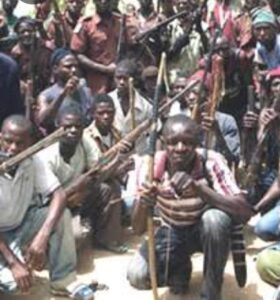 About Post Author