It took these two communities Yakila and Garin Gabbas Village unawares as the Traditional Ruler and the APC youth leader were been kidnapped simultaneously by gunmen who seem to be bandits.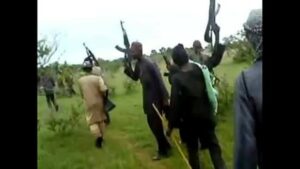 The Gunmen who raided this villages are suspected to be bandits, they have kidnapped the District Head of Yakila Village by name Alhaji Ibrahim Abdulhamid, as well as the Youth Leader of the All Progressive Congress (APC) in Garin Gabbas, both villages are in the Rafi Local Government Area of Niger State.
The incidents took place in the early hours of Thursday 10th December as bandits plunged and raided this nearby communities in the same district simultaneously.
Information gather also shows that a staff nurse by name Halima was also been kidnapped along Garin Gabbas, her two children were also carried along with other victims as reported by Channels Television.
This incident has been cofirmed by the Director General of the Niger State Emergency Management Agency, Ahmed Inga.
According to his reports, it has been gathered that several occupants of the community are also unaccounted for, making it very difficult to ascertain the number of persons that may be missing.
He said "that informations and details are still gather on the account of the attack and will be made public as soon as possible"
It has been reported that the attack came just a week after the palace of village of Pangu in the same district was set ablaze by same bandits.
About Post Author