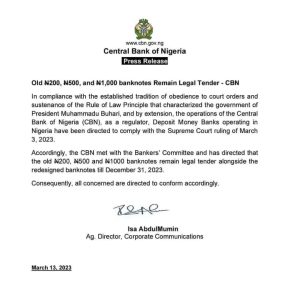 It's finally a thing of relief for Nigerians, as the CBN affirms the Old Naira Notes Remain in Circulation after such turbulent months.
Nigerians had to go through a daunting period due to the CBN policy which took effect sometime last year.
The situation in the country has been really pathetic as Citizens went through serious hell.
There was a lack of fuel which led to the high cost of transportation.
There was a lack of money in circulation which led to citizens not being able to buy their basic needs.
Due to the naira redesign policy which the CBN started sometime last year and the President launched on 23 November 2022 for use.
The impact of this policy has in fact been really negative on Nigerians.
The CBN governor stated that this strategy was implemented to help restrict the circulation of the Nigerian currency because.
According to the data they had, it was evident that the general population was hoarding a significant amount of bank notes.
This has led to a shortage of clean and fit notes in circulation.
This also contributed to the country's rising prevalence of currency fraud and the lengthy period between naira note redesignations.
This redesignation normally should be between 5 and 8 years in accordance with best practices.
But this Policy had caused a lot of controversies all over the country causing more pain for Nigerians.
The APC governors took CBN to court and asked that the old naira notes remain in circulation.
CBN affirms the Old Notes Remain in Circulation
The Court ruling was that the Old naira notes remain in circulation till 31st December 2023.
The Supreme Court's order authorizing the use of old N1,000, N500, and N200 notes as legal tender for 10 months has been partially complied with by the nation's banks.
The old naira notes shall be permitted to circulate alongside the new ones until December 31, 2023, the Supreme Court said last week.
The Federal Government's strategy of naira redesign, according to the court, was in violation of the 1999 Constitution.
About Post Author