A civil defence officer has been arrested for killing two(2) innocent civilians.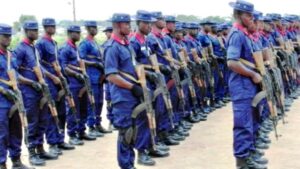 The Nigerian Security and Civil Defence Corps Officer, Sunday Adekola, serving in Benue state has recently been arrested for killing 2 (two) two innocent civilians on christmas day.
He claimed he was just trying to warm up the atmosphere with the two gunshots he fired, and also said that when the two gunshots came out he didn't even see anybody, but was eventually shocked when people came at him and started beating and dragging him, trying to take his rifle away from him.
He killed a girl named, Jennifer Roberts and another unidentified young man.
According to the NSCDC Officer he was going around checking his men on duty on christmas day and while he was returning he decided to warm the air. He said he didn't intentionally kill this two persons.
The incident occurred at Otukpo area in Benue State. The officer who has been detained by the police, explained he was carrying three magazines and 90 rounds and didn't have any knowledge that people were hit by the bullets. He stated he is quite remorseful of the incident that the action was never deliberate.
READ ALSO: Sports: Ronaldo wins, Global Soccer Player of the Century
FOLLOW US ON TWITTER FOR DAILY UPDATES
Watch the video of his interview below.
About Post Author