Pat Ormond the 74 year old grandmother who never gave up on her college Education dreams.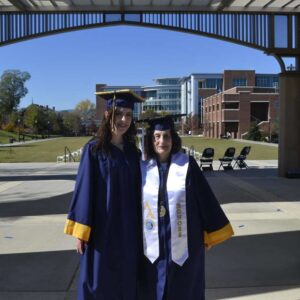 Pat  Ormond the 74-year-old granny  is a living proof of the no time is too late to make an effort to achieve the desires or dreams we have always set for ourselves. She dared it and succeeded in getting her college Education
Pat, went back to school at a very old age and is graduating at 74, a month just before she turns 75 years old. She is just receiving a bachelor's degree in anthropology 42 years after she attended her first college in 1978.
She took her first college education at the Kennesaw State University, Atlanta in 1978, but just after a semester neccessity demanded her to drop out to move to Chattanooga in Tennessee.
She had to take a job as an accountant to help sustain her family and also help raise her family including her grand daughter's dad, while she was occasionally taking classes at the University of Tennessee, Chattanooga (UTC). This was as a result of  continous encouragement of by her family to go back and get her degree which has always been daily passion.
She wasn't alone in the University of Tennessee, Chattanooga (UTC) has she had another graduate from the same university, her 22-year-old grand daughter, Melody.
She said "I always knew that I was going to graduate from college, I just never knew that my nana was also going to be there with me."
She was all enthusiastic on the realization of her dreams as a college graduate.
About Post Author