Cavani has been banned over a perceived racist message he posted on his Instagram page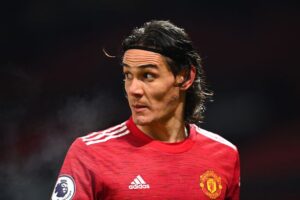 The Striker for Manchester United, Cavani Edinson will be missing the club's matches for three times, due to him been banned by the Football Association over a perceived racist message he posted on his Instagram page.
The Football Association consider the post offensive and implying him to be a racist.
It has also been reported that the 33 year old player for Manchester United was charged 100,000 Euro for the post which he shared on his Instagram page in response to a congratulations message from his friend.
He will be missing games against the Aston Villa club, Manchester City and Watford as a result of him been banned for three matches consequtively by the Football Association.
The post which was shared on his Instagram page on November was immediately deleted by the striker with an apology.
Cavani stated the post was never meant to offend anyone and certainly didn't have any racist implications. He said " The message i posted after the game on Sunday was intended as an affectionate greeting to a friend, thanking him for his congratulations after the game.
He further stated he is completely oppose to racism and had to immediately delete the post immediately it was explained to him the implications of the post and that it can be interpreted differently by some persons.
READ ALSO: Ronaldo wins, Global Soccer Player of the Century
About Post Author