Can Gov. Udom Defect to APC be a rumour or fact?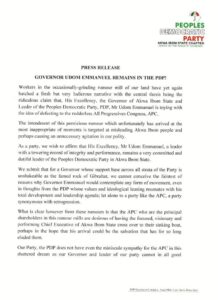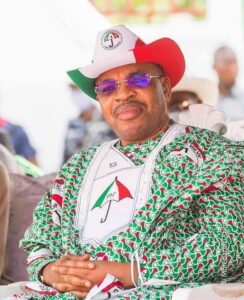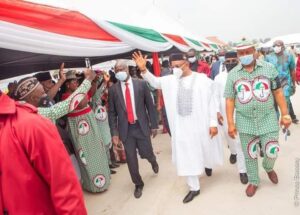 News being carried around rumour of Gov. Udom Defect to APC, the leading political party in the country.
Gov. Udom is the seating governor of Akwa Ibom State and has been in power since 2015 after the then Governor, God'swill Obot Akpabio handed him power.
Though they have been alot of controversies and logger heads in the state since he came into power, and alot of side talks of him having to be answerable to alot of things after his tenure.
One may be wondering being the trend of most Nigerian leaders to Defect from one party to another before elections and after elections, just like Gov. Ayade of Cross Rivers state just made the news for his defection from PDP to APC. Will Gov. Udom Defect to APC?, will he have any reasons to?.
In a recent press release by the party's secretary, it reaffirms the fact that udom still remains in PDP.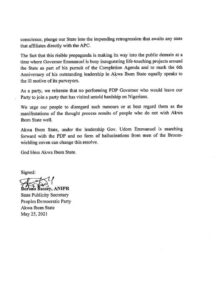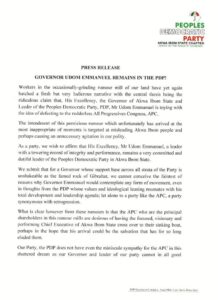 GOVERNOR UDOM EMMANUEL REMAINS IN THE PDP!
Workers in the occasionally-grinding rumour mill of our land have yet again hatched a fresh but very ludicrous narrative with the central thesis being the ridiculous claim that, His Excellency, the Governor of Akwa Ibom State and Leader of the Peoples Democratic Party, PDP, Mr Udom Emmanuel is toying with the idea of defecting to the rudderless All Progressives Congress, APC.
The intendment of this pernicious rumour which unfortunately has arrived at the most inappropriate of moments is targeted at misleading Akwa Ibom people and perhaps causing an unnecessary agitation in our polity.
As a party, we wish to affirm that His Excellency, Mr Udom Emmanuel, a leader with a towering record of integrity and performance, remains a very committed and dutiful leader of the Peoples Democratic Party in Akwa Ibom State.
We submit that for a Governor whose support base across all strata of the Party is unshakeable as the famed rock of Gibraltar, we cannot conceive the faintest of reasons why Governor Emmanuel would contemplate any form of movement, even in thoughts from the PDP whose values and ideological leaning resonates with his total development and leadership agenda; let alone to a party like the APC, a party synonymous with retrogression.
What is clear however from these rumours is that the APC who are the principal shareholders in this rumour mills are desirous of having the focused, Visionary and performing Chief Executive of Akwa Ibom State cross over to their sinking boat, perhaps in the hope that his arrival could be the salvation that has for so long eluded them.
Our Party, the PDP does not have even the miniscule sympathy for the APC in this shattered dream as our Governor and leader of our party cannot in all good conscience, plunge our State into the impending retrogression that awaits any state that affiliates directly with the APC.
The fact that this risible propaganda is making its way into the public domain at a time when Governor Emmanuel is busy inaugurating life-touching projects around the State as part of his pursuit of the Completion Agenda and to mark the 6th Anniversary of his outstanding leadership in Akwa Ibom State equally speaks to the ill motive of its purveyors.
As a party, we reiterate that no performing PDP Governor who would leave our Party to join a party that has visited untold hardship on Nigerians.
We urge our people to disregard such rumours or at best regard them as the manifestations of the thought process results of people who do not wish Akwa Ibom State well.
Akwa Ibom State, under the leadership Gov. Udom Emmanuel is marching forward with the PDP and no form of hallucinations from men of the Broom-wielding coven can change this resolve.
God bless Akwa Ibom State.
Signed:
Borono Bassey, ANIPR
State Publicity Secretary
Peoples Democratic Party
Akwa Ibom State
May 25, 2021
Well this is what the press release categorically states that Gov. Udom Defect to APC is false and he still remains a strong member of the party.
READ ALSO: Sheikh Ahmad Gumi A very famous Islamic cleric has expressed his bitterness in the kidnap of students at Greenfield university.
---
About Post Author