Health: Knowing The Importance Of The Vitamin B12
The Vitamin B12  is one of the important B vitamins that your body needs to stay healthy. The B12 vitamin is also called Cobalamin. It is needed for the processes that turn carbs, fats, and proteins in food into energy.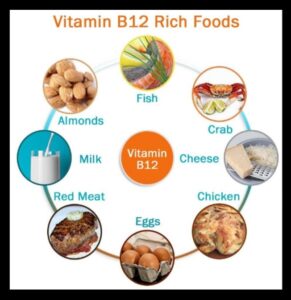 Health: knowing The Importance of Vitamin B12
The B12 vitamin is also important because it helps keep the red blood cells healthy, which helps prevent heart disease and keeps the immune system working at its best. Also, B12 is used to make the covering that all nerve cells in the body have to protect them.
The most important thing vitamin B12 does is help make healthy red blood cells. All cells need B12 to stay healthy. White blood cells, among others, need B12 to help the immune system work well.
All nerve cells in the body need B12 to make the fatty layer that protects them. This is very important for all nerves, but especially for the nerves in the brain. If there isn't enough vitamin B12 to make this protective layer, the brain won't function well.
The amount of vitamin B12 that the body needs is pretty small, but it needs it all the time. But B12 on its own isn't enough because the body can't easily absorb it. To help the body absorb B12, the stomach makes a chemical called intrinsic factor. This chemical makes it easier for the body to absorb more B12.
Vitamin B12 is only found in animal foods like liver, eggs, fish, and meat, but most people eat much more than the amount of B12 that is recommended for a day. This is not a problem because the body can only absorb about half of the B12 that is eaten.
It's also important to know that the body can recycle B12, which makes the effects of a B12 less severe. But strict vegetarians or vegans who don't eat any animal products that contain B12 may need to take B12 supplements.
Symptoms Of Vitamin B12
If the body doesn't get enough vitamin B12, the most obvious sign is Anemia. Clearly, this is because there isn't enough vitamin B12 to make healthy red blood cells.
Anemia can also happen when the body doesn't make enough intrinsic factor to help absorb the B12 from the food eaten. When a person turns 50, their body tend to make less intrinsic factor. This means that they absorb less B12 and may need to take B12 supplements.
Children can also get Anemia because they might not eat enough foods that contains vitamin B12. Pregnant women need more B12 because their babies need vitamin B12 to grow properly while they are in the womb.
READ ALSO: 10 Reasons to buy Xbox 360
About Post Author