Email marketing strategies are the best tool you have for promoting your brand and increasing conversions for your brand.
Email marketing is the most effective tool you have for promoting your brand and increasing conversions.
You should be sending out interesting email content multiple times a week if you want to build a strong relationship with your mailing list and increase your chances of generating new and recurring transactions.
When it comes to building strong relationships with your mailing list and increasing your chances of generating new and recurring sales, email marketing is the way to go. You should send out interesting email content multiple times a week.
Email marketing is still one of the best ways to attract new clients, increase sales, or build a tribe of devoted fans. It is not dead.
Email is a terrific method to keep your current customers and one of the most effective ways to turn new visitors into customers, whether you run an online store, blog, or small business website.
Many people think that email's function as a potent digital marketing tool has changed as a result of the increased use of social media, but this is untrue.
What Are Email Marketing Strategies?
Marketers have more opportunities than ever in today's digital world to interact with and strategically reach their target audience through email.
Email marketing strategies are a set of procedures that a marketer identifies and follows to achieve desired marketing goals with email advertising. This plan of action gives businesses a direct channel of communication with prospects and customers for brand promotion.
The importance of Email Marketing Strategies includes having a business plan, it helps you gauge your result, and it allows you to pick the best tactics that will work well for your brand.
You need efficient email marketing strategies if you own a business in Nigeria. Below are some email marketing strategies for every small business owner in 2023.
1 Utilize your users.
In your email marketing strategy, branded content will always have a role, but including user-generated content (UGC) can Create a feeling of community, cultivate trust, and most crucially, encourage conversions from your users. Customers frequently hear from you. Why not let them hear of a change from other clients? In your communications, draw attention to product testimonials, customer reviews, and images. For verification, include their first name or account on social media.
2. Control the omnichannel encounter
The future of marketing is omnichannel advertising. An omnichannel marketing strategy connects user behavior across all of your marketing channels (social media, email, etc.), allowing you to modify your messaging in real-time based on user behavior.
3. Constantly test
From the adage, if you fail to plan, you plan to fail. Testing forks in the same way. For your email marketing campaign to work effectively, you must know what's working and not working. Every effective email marketing plan starts with constant testing.
With constant testing, you'll build your criteria, allowing you to gauge your progress and have a better understanding of your unique audience.
4 Keep Your Subject Lines Short
A subject can either make or break the email campaign's success. Despite being a simple one-liner, it must be catchy to the readers and this requires some skills to conjure catchy words with a better chance of email subscribers opening their emails.
Did you know that almost 47% of email recipients' open rates are because of the subject lines? Whereas a personalized email campaign is more likely to have open rates by 22%.
5 Send Mobile Friendly Emails
According to research conducted In 2012, 27% of all marketing emails were opened on a mobile device. By 2014, that number jumped up to 42%. This continues to increase every day. Recently, it has been said that 61% of marketing emails are opened on mobile.
Let's practice a little. Waking up every morning, between your phone and your laptop, which is closer to you? I'm guessing you have your phone next to your bed and the first thing you do each morning is check your phone for calls, messages and yes, you guessed it, emails…
When you send an email to a subscriber who reads their emails on their mobile device, but the email is not optimized for that device, what do you think they do with it? Mostly, they will unsubscribe or delete it.
So why not add this to your email marketing strategies? If just an unfriendly email can cost the loss of a subscriber, it is therefore important to make this one of your email marketing strategies in 2023.
6 Segment Your Audience
Email Marketing strategies are meant to help you have a greater result. According to email marketers strategists, segmentation is second on the top in email marketing strategies 2023.
Email marketing segmentation is the practice of businesses taking their full database of email subscribers and dividing the contacts into smaller segments for a more targeted or personalized experience. personalized experience.
Let's take a look at an example:
You're hosting a networking event for small business owners located within a 20-mile radius. How can you expect to get the best turnout for your event?
The answer is segmentation.
The best way to get owners to turn up to your event would be to create a segment of people who list themselves as small business owners that live within 20 miles of your event and then send them an invite by email.
The segmentation part is simple and can easily be done through CRM software. Compare this to sending one email to your entire database, with subscribers spread across the country (or continent).
It can be so annoying to receive an email that invites you to an event that is located on another side of the world, exactly why segmentation is one of the important email marketing strategies. Also, The segmentation results in increased performance.
7 Personalize Your Email
When writing your emails, it's advisable to put your corporate headdress to the side and write as if it were your friend. This is the only way to appeal to your subscribers and get them to open and click your emails.
For example, a corporate phrase like, "We are offering savings to our customers!" comes off as distant and stuffy. A more friendly alternative could be something like, "you've gotta check out this deal…"
Being able to personalize your email makes the email seem a whole lot more personal and friendly. It makes it less likely that your recipients will simply delete your message and move on.
Always know that in this age of information, everyone is looking for a reason to ignore your emails. They aren't looking for a reason to read them. But if you appeal to them on a personal level, you'll stand a better chance of getting that email opened. This should be one of your email marketing strategies for 2023
8 Choose The Best Timing
Most of our emails are being ignored because we tend to send them at the wrong time. If you're sending emails that include a sale or promotion, try sending them during the early hours or the times your audience tends to take their lunch breaks simply because they may be more likely to check their emails at this time.
10 am and between 3 pm and 4 pm. These times may not be surprising. At 10 am, most people are already at work and trying to get some things accomplished, eventually checking their email inbox and going through their unread messages.
9 Have A Email Schedule
Establish when to send your email and goals. There's nothing set in stone about how often you should email your customers, but if you send too often, your subscribers are likely to tune out what you have to say or frequency if needed. Choose to send your email campaign at your own pace, and check the unsubscribe rates and click-through rough rates to adjust the frequency if needed.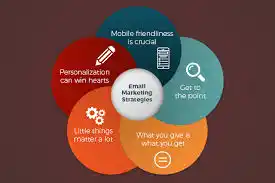 10 Have A Content Calendar
Try to make a schedule. One way to make sure you're staying on track is to create a content calendar to schedule your email campaigns. Your email marketing schedule will depend on your industry, the types of content you send, your content marketing strategy, and how often you send your mail.
Benefits Of Email Marketing
A marketer's dream is to have a unique personalized value proposition for every single potential customer. While marketing is not quite there yet, email marketing does a pretty great job of approximating every marketer's dream.
Benefits of Email Marketing
Below are some of the benefits of email marketing to small businesses in Nigeria:
Cost Effective
Email marketing is more affordable than other types of traditional marketing, which is one of its most evident benefits. In exchange for exposure on a particular billboard, magazine, or television station, there are no fees, printing expenditures, or postal charges. To automate, track, and assess their emails, email marketers may want to think about spending money on specialized software. Sending thousands of emails at once may have a modest overhead, but these expenses are considerably less than what you could anticipate paying through other marketing channels.
Particularly in commercial banks in Nigeria, email notifications are typically provided without charge. This little connection with a wide spectrum of clients around the nation has benefited in retaining customers.
Friendly to users
Email distribution is accessible and simple to comprehend. A student, professional, or expert can complete this. A tool for selling information, a product, or a service can be identified by the basic product information of who, when, where, and how. Increased brand awareness and consumer focus are benefits of email marketing.
A significant aspect of the email experience is typically the USP and value-added services. Email marketing should not have long or dense content. Access to important information can be made simple by embedding links and online searches.
Goal-Oriented Audience
A franchise can easily arrange for emails to be sent just to those who live in particular locations if it only has an offer in certain regions of the nation. You must be close to Nigerians if you want them to buy from you. You must understand their needs, as well as when, why, and how they desire things. Nigerians are not particularly brand loyal, therefore even a small price rise can cause you to lose your longest client or customer.
Email marketing shows to be goal-oriented. Customers may only appreciate information that supports their interests for it to best.
About Post Author