7 Reasons You Should Build A Website
Here are about 7 Reasons You Should Build A Website for your business and your company.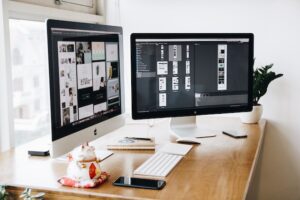 1.Promotion Of a Business
Your company can benefit tremendously from having a website since it can be promoted to millions of customers all over the world via the internet.
Even if marketing is the most important part of running a business, having a website is still very important to the overall promotion of a company.
It is beneficial to the company in that it enables it overcome the limitations of time and distance. It functions as both a brochure and a marketing tool, making it possible for customers to learn about your services and products whenever and wherever it's most convenient for them.
2.Communicate your message
Today's successful businesses understand that communication is one of their most important competitive advantages. You are able to transmit your message in an efficient and cost-effective manner with the assistance of a website.
Your clients and users have access to your website around the clock in order to act upon whatever message you wish to convey—whether be it commercial, social, or personnel—and they can do so in order to act upon whatever message you wish to convey.
3. Maintain open lines of communication with your customers
A website is an excellent way to make your presence felt among your customers regardless of whether they are in your town, country, or out of continent.
A website is also an excellent way to provide comprehensive information to your customers about your services or products in an environment that is more tranquil and peaceful than in a traditional form of advertisement.
Even you, as the business owner, can maintain communication with your cudtomers by subscribing to mailing list or RSS feed, or by simply visiting your website.
4.Make it easier to acquire knowledge
A website can be an excellent tool for facilitating the sharing of information among staff members. It is possible to make use of it as a tool to aid the sharing of knowledge and the key information among the staff members.
It is also possible to utilize them as forums, in which people may publish their inquiries and receive responses from other users, as well as exchange questions and answers with one another.
5.A Sales Marketing tool used outside the office
Your website has the potential to serve as a sales tool that is active around the clock, 24hrs every day of the  year. Whether you are going to make an announcement about a press release, plan to launch new services and goods to the market, or are going to enter into an alliance with the leading company, having a website helps you achieve that.
Your clients or customers are kept up to speed with the most recent developments in your business, which in turn keeps them up to date with your products and services, thanks to the corporate website that your company maintains.
6. Reach Out To International Market
If you have made the decision to enter the overseas market, it will be to your advantage to establish a website that is tailored specifically to that market.
The website will be designed to meet the special requirements and expectations of that particular market.
Customers that feel like they have a stronger connection to your business, its services, and its products may be more likely to remain loyal to your brand if your website has a regional character.
7. Make Branding More Effective
One definition of a brand is the emotional connection that it creates between a firm, its products or services, and clients It is a strategy that can distinguish your products, services, or company from those of your rivals while also inspiring loyalty in your customers and clients.
You are able to stand out from the crowd thanks to the content of your writing, the way you present it, and the tools you use, such as newsletters and press releases.
It contributes to making the visitor feel positive about the organization and the items while also helping to generate loyalty.
We Just hope these 7 Reasons You Should Build A Website is enough to motivate you to take your business to a next level.
About Post Author