4 Simple Tips to Write a Wedding Speech
Have you been asked to offer a toast at someone's wedding? There are 4 Simple Tips to Write a Wedding Speech and It doesn't matter if you simply wish to give a speech on your own as an alternative option. It is still a terrifying ordeal for anyone to have to go through, regardless of whether they are the bride, the groom, the best man, the father of the bride, or the maid of honor. It makes no difference.
But with the advice that I give you in this article, I guarantee that not only will you feel more comfortable writing the perfect wedding speech, but you will also feel more comfortable delivering the perfect wedding speech. With that in mind, shall we get started?
Writing a wedding speech may be an important and memorable endeavor. Here are four suggestions to assist you in writing an emotional and captivating wedding speech:
Plan and Prepare: To start, gather your ideas and choose the main ideas you want to discuss in your speech. Think about the characters of the couple, their journey, and the importance of the occasion. Spend some time coming up with tales, recollections, and experiences that you may use in your speech. Planning and preparation will add structure and consistency to your speech. The

ideal approach to begin a speech at a wedding is to begin by expressing gratitude to everybody and everyone who played a role in the preparation of the event, as well as to those who are important to the bride and groom. Depending on what your job is, you may spend a considerable amount of time expressing gratitude to all of the people who contributed to the success of the wedding, including the parents of the couple.
Be Genuine and Personal: The finest speeches at weddings are those that are spoken from the heart. Speak honestly and from your own experiences and feelings. Share your personal experiences with the pair, emphasizing their positive traits and the influence they have had on your life. Your speech will be more relatable and likable to the couple and the audience if it is.
Keep it Brief and Interesting: Keep in mind that the speech is only one aspect of the celebration. Be succinct in your remarks and refrain from rambling or digressing. Include comedy, touching moments, and a positive tone while concentrating on the highlights and keeping the audience interested. To add interest and hold the listeners' attention, carefully use stories, quotations, or jokes. It's

 a great idea to start the speech off with a humorous anecdote about the couple getting married, whether it be the bride or the groom. Be sure that the amusing anecdote you tell is not offensive or rude, and don't reveal any secrets that could potentially harm the marriage before it has even had a chance to begin. It is not appropriate to vent dirty laundry to every member of the family at this time.
Practice and Rehearse: After writing your speech, simulate giving it several times. Learn the material, the timing, and the pauses. Your confidence will increase, you'll be able to see where you need to make improvements, and your delivery will go more smoothly if you practice. Think about making a tape of yourself or getting feedback from a family member or trusted friend who can make helpful comments.
Keep in mind that the purpose of a wedding speech is to honor the couple, show your love and support, and make the event special for everyone there. You'll be well on your way to giving a touching and unforgettable wedding speech if you follow these suggestions and take an honest approach.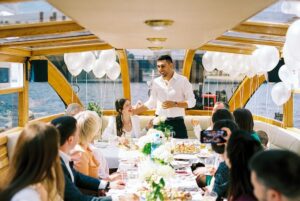 After reading these guidelines, if you are still not confident that you can write the ideal speech for a wedding, you have my permission to lift a portion of another person's speech and rephrase it so that it fits into your context.
You will find thousands of websites that offer free wedding speech templates online, and there are countless books that you can buy online and download online right now that give you really good quality speeches and toasts that you can steal and us
But the most important thing to keep in mind is to calm down!
At the end of the day, it's all in good fun, and as long as you don't insult anyone or say anything obscene or rude, everyone will think your speech was fantastic.
About Post Author